Camella Tagaytay Rest Houses for Sale in the Philippines
House and Lot for sale in Tagaytay starting at 2.6M!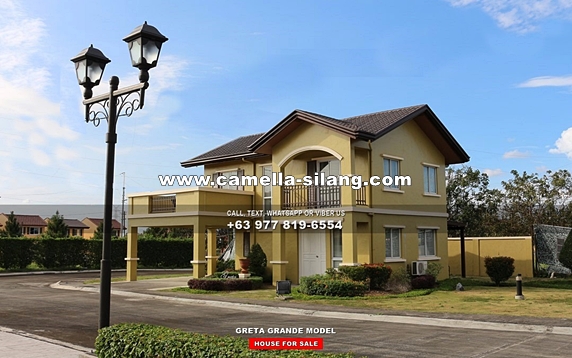 Camella Tagaytay is a first-class residential community in Tagaytay. It is situated on a 20-hectare prime land located 3 minutes before the Tagaytay rotonda, so you can enjoy the same cool breeze of Tagaytay right at your doorsteps. Camella Tagaytay's excellent location makes it possible for you to experience luxurious lifestyle within a nature-inspired setting. Enjoy the coolness and the bounty of nature in your very own community. Surround yourself by nature in all its glorious beauty and tranquility. Come and claim the Camella Tagaytay lifestyle, and calm your minds and spirits with the serenity of the environment.
Designed to accommodate your family and friends
Ideal for both vacation and residence
The interior of every Camella Tagaytay's house model has been carefully designed to accommodate weekend gatherings and vacations in Tagaytay. Spacious kitchen and dining room are well laid out for your family and guests to prepare and enjoy frequent feasts. Each house model's high ceiling and many windows allow natural light and the cool breeze of Tagaytay to flow freely for everybody's delight. Your house in Camella Tagaytay is so functional that you can actually make it your very home!
Bedrooms in Camella Tagaytay houses
Minimum 3-Bedroom House and Lot in Tagaytay
In Camella Tagaytay, house models have two storeys and at least three bedrooms for the comfort of your family and friends. The artist in you will enjoy designing the best layout of your house. For each floor, toilet and bath is conveniently situated to accommodate a full house. For sure, everybody in your house will enjoy their stay in Tagaytay!
Camella Silang Tagaytay Location
We are 3 minutes away from the cool views of Taal Volcano!
Camella Tagaytay is just a minute away from the Tagaytay Rotonda. The village is located at the very border of Silang and Tagaytay, so you can enjoy the same cool breeze of Tagaytay right at your doorsteps. It is less than 5 minutes away from the north of the popular landmark, Tagaytay Picnic Grove, and about 3 minutes away from the cool views of Taal Lake.
Camella Tagaytay's strategic location where everything is accessible, fun activities for everyone, the cool climate, the pine trees, and the nature-centric inspiration of the community make for the great life. Camella Tagaytay is truly the epitome of beauty, tranquility, security, and accessibility.
If you or your representative would like to see Camella Silang Tagaytay, please call, text or viber us at +63 917 329-1028 and we will take you there for free!